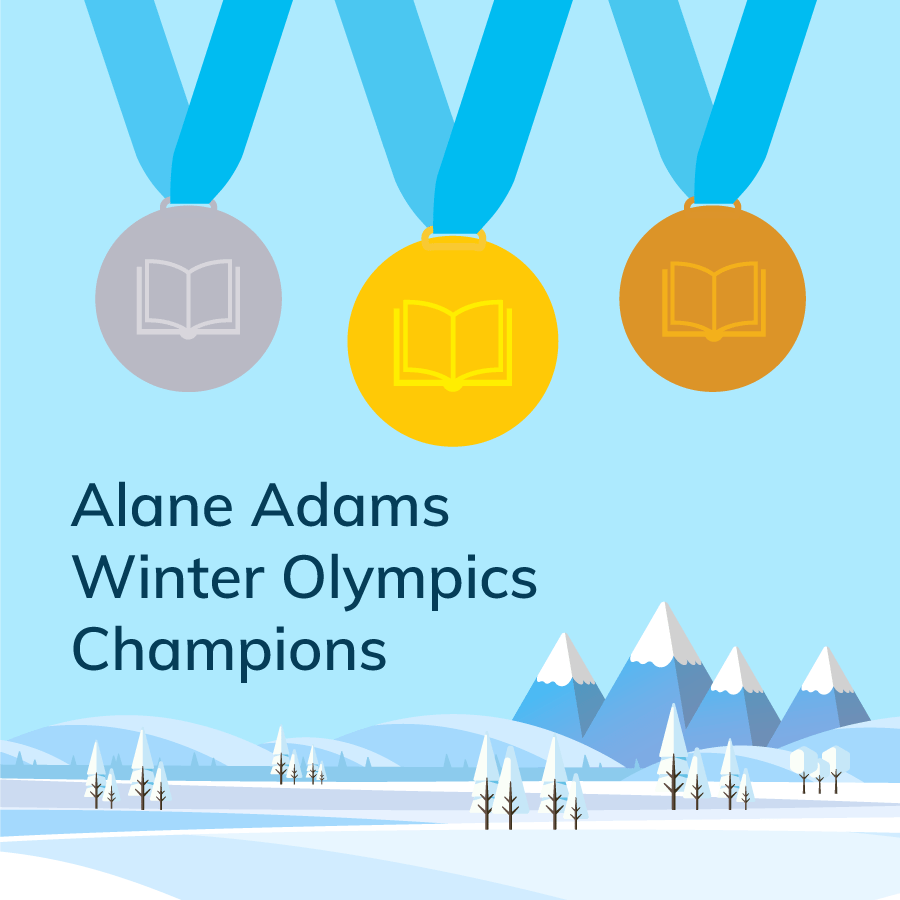 In the spirit of this month's Winter Olympics, I wanted to share my thoughts on what I consider medal-winning series for middlegraders that you might not yet have heard of. Of course everyone on the planet is familiar with Harry Potter and Percy Jackson. But what are some other podium-worthy series?
I present to you Alane Adams Winter Olympic Champions!
Gold Medal

The Fairy Tale Reform School series is one of my favorite middle grade series featuring the heroic pickpocket Gilly Cobbler. This twisted fairy tale from the award-winning author Jen Calonita is a delightfully magical adventure featuring villains as teachers and lots of mixed up fairytales.
"Gilly wouldn't call herself wicked, exactly…but when you have five little brothers and sisters and live in a run-down boot, you have to get creative to make ends meet. Gilly's a pretty good thief (if she does say so herself).
Until she gets caught.
Gilly's sentenced to three months at Fairy Tale Reform School where all of the teachers are former (super-scary) villains like the Big Bad Wolf, the Evil Queen, and Cinderella's Wicked Stepmother. Harsh. But when she meets fellow students Jax and Kayla, she learns there's more to this school than its heroic mission. There's a battle brewing and Gilly has to wonder just how good these bad guys really are?" –Amazon
Silver Medal
Gr 4 Up–If your kids like Lemony Snicket's Series of Unfortunate Events then they'll probably fall in love with Mabel Jone's spunk and sassiness. Plus the illustrations are charming and will draw in reluctant readers who can engage quickly visually as well as being spellbound by the antics of Mabel Jones.
"When Mabel Jones unknowingly commits 'The Deed' she finds herself swiftly bundled into a sack and carried off to the pirate ship the Feroshus Maggot.
Crewed by the strangest bunch of pirates you would ever want to meet and captained by the dreaded Idryss Ebeneezer Split (a wolf with a false leg carved from a human thighbone, a rusty cutlass sheathed in his belt and a loaded pistol tucked in his pants with no fear of the consequences), the Feroshus Maggot whisks Mabel Jones off on the adventure of a lifetime."–Amazon
Bronze Medal

Given I'm a huge fan of stories with witches, it should be no surprise that this made the list. Especially because the premise is there is no such thing as a good witch! Which means we know exactly where we're headed: to prove them wrong. This story is definitely darker than some (her mother was hanged as a witch when she was five!) but shouldn't deter readers from diving into the twisting plot.
"When Kara Westfall was five years old, her mother was convicted of the worst of all crimes: witchcraft. Years later, Kara and her little brother, Taff, are still shunned by the people of their village, who believe that nothing is more evil than magic…except, perhaps, the mysterious forest that covers nearly the entire island. It has many names, this place. Sometimes it is called the Dark Wood, or Sordyr's Realm. But mostly it's called the Thickety.
The villagers live in fear of the Thickety and the terrible creatures that live there. But when an unusual bird lures Kara into the forbidden forest, she discovers a strange book with unspeakable powers. A book that might have belonged to her mother.
And that is just the beginning of the story." –Amazon