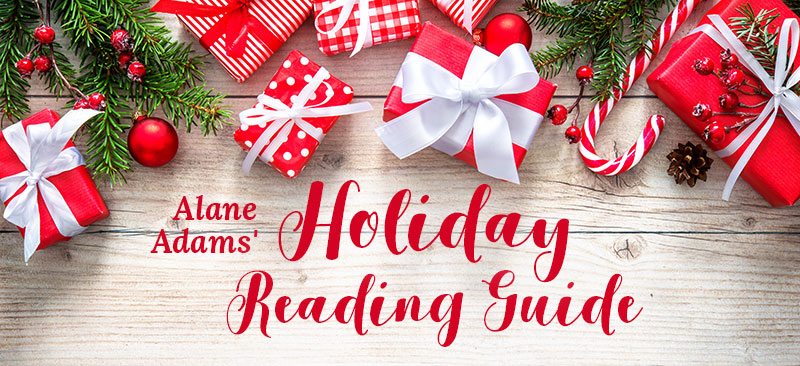 This time of year is one of my favorites for creating special memories around reading with your children. There are just so many great stories to choose from, some of them classics, and some of them freshly released. The wonderful thing about holiday-themed books is that they usually share an important message of family, togetherness, and the sense of magic and wonder that comes to life this time of year. Whether you celebrate, Hanukkah, Christmas, Kwanza, or just enjoy the festivities, there are wonderful books to share with your kids.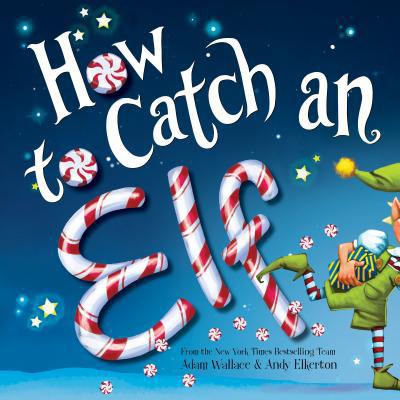 "It's Christmas Eve! Hip hip, hooray!
Yes, Santa's coming 'round.
He's bringing toys to girls and boys
in every house in town."
"Some kids have tried to catch him,
but Santa's fast, you see!
So they've set their eyes on a smaller prize,
and now they're after me!"
How to Catch an Elf is such a sweet rhyming book, it can't help but entrance your little ones and get them giggling. One of the best ways to get kids excited about reading, is making it a fun experience for them. This one is so much fun to read out loud, they'll ask you to read it over and over again.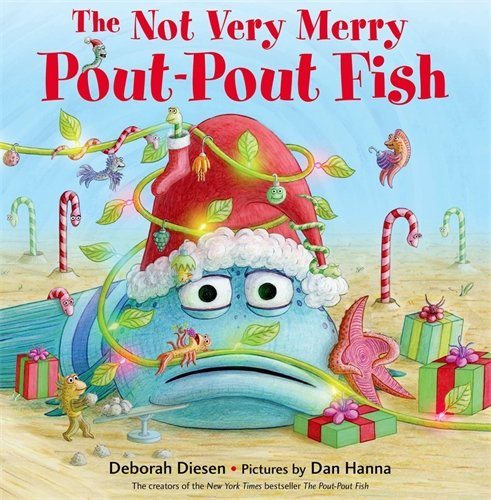 "A gift should be big,
And a gift should be bright.
And a gift should be perfect–
Guaranteed to bring delight.
And a gift should have meaning
Plus a bit of bling-zing,
So I'll shop till I drop
For each just-right thing!"
I love the Pout-Pout series in general because of the fun illustrations, and this one is quickly becoming one of my favorites.  In The Not Very Merry Pout-Pout Fish, Mr. Fish is so busy searching for the perfect gifts on his list, he just might miss out on the most important message of all! This is such a lovely reminder that the best gifts not only come from the heart, but are the ones you give, not receive. Kids are sure to love the story, and parents can use it to help them understand better what gifts represent.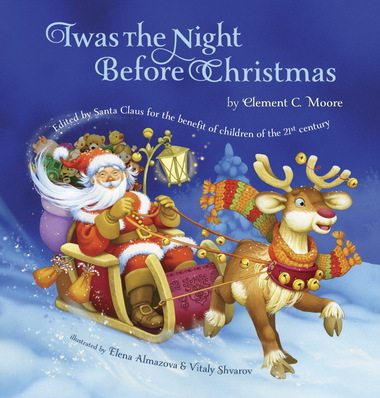 "'Twas the night before Christmas, when all through the house
Not a creature was stirring, not even a mouse;
The stockings were hung by the chimney with care,
In hopes that St. Nicholas soon would be there."
There is probably no better-known Christmas book than the poem-based story 'Twas the Night Before Christmas by Clement C. Moore. There are so many editions to choose from, it's really fun to browse through them and find the one you like. This is an excellent book to base traditions on! You can create a special evening out of it by having a themed dinner, and getting dressed up in your finest Santa pajamas. It's great to get the whole family to sit together in a family room, preferably one decorated with a Christmas tree! You can have kids take turns reading sections, or acting out the parts. The best thing is, they will remember it year after year, and look forward to that special night you read it together.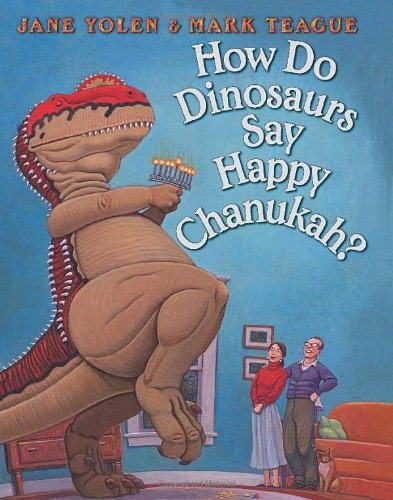 "Does a dinosaur act up on Chanukah nights when mama comes in with the holiday lights?
Does he fidget and fuss through the candlelight prayer?
Does he blow out the candles when no one is there?"
Jane Yolen and Mark Teague's Dinosaur series is one of my favorite picture book series, one I remember reading over and over again with my son. The illustrations in How Do Dinosaurs Say Happy Chanukah are colorful and warm, and I love the looks on the parents' faces as the dinosaur acts up through the pages. While the book doesn't delve too much into the meaning behind the holiday, it does a great job entertaining kids and poking fun at just how hard it can be for kids to sit still during important holiday events.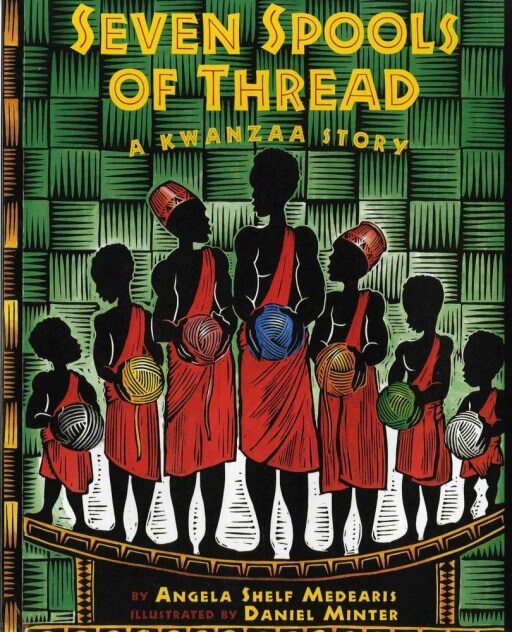 "In a small African village in the country of Ghana there lived an old man and his seven sons. After the death of his wife, the old man became both father and mother to the boys. The seven brothers were handsome young men. Their skin was as smooth and dark as the finest mahogany wood. Their limbs were as straight and strong as warriors' spears."
I just love the linoleum block prints that make up the illustrations in the classic fable, Seven Spools of Thread. It is a beautifully written story about how a family must work together instead of fighting amongst themselves, while gently teaching the seven principles of Kwanza, the Nguzo Saba. The author cleverly weaves in all of the Kwanza principles within the story, leaving it to the reader to uncover them. This is a lovely story to share with your kids to help them understand family values, working together, and the many ways we can celebrate family and community.