AVAILABLE NOW
"This charming and brilliant novel is superbly plotted and will win over readers . . . Phoebe's voice is dead on and authentic, as are those of her friends. The author's masterful prose and style serve the story instead of merely taking center stage . . . This author and novel are ready for prime time and the big time." ―Publishers Weekly, BookLife Prize Critic's Report
Meet Phoebe Katz, a twelve-year-old foster kid from New York City who's been bounced around the system her entire life. Things happen around Phoebe, but it's not like they're her fault! But when a statue of Athena comes to life, Phoebe gets the stunning news she's the daughter of Zeus, has a twin brother named Perseus―and was sent away from ancient Greece as a baby to stop a terrible prophecy that predicted she would one day destroy Olympus. Athena warns Phoebe to stay in hiding, but when the vengeful god Ares kidnaps her beloved social worker, Phoebe has no choice―she has to travel back to ancient Greece and rescue him! There, Phoebe and her friends Angie and Damian discover a new prophecy, one that may fix everything. The catch: Phoebe has to collect talismans from six Greek monsters, including the fang from a nine-headed hydra, a talon from the Nemean lion, and a feather from the sphinx. No problem for a girl with the power to call up lightning bolts and change the weather! But can Phoebe collect them all and stop the prophecy before she destroys Olympus?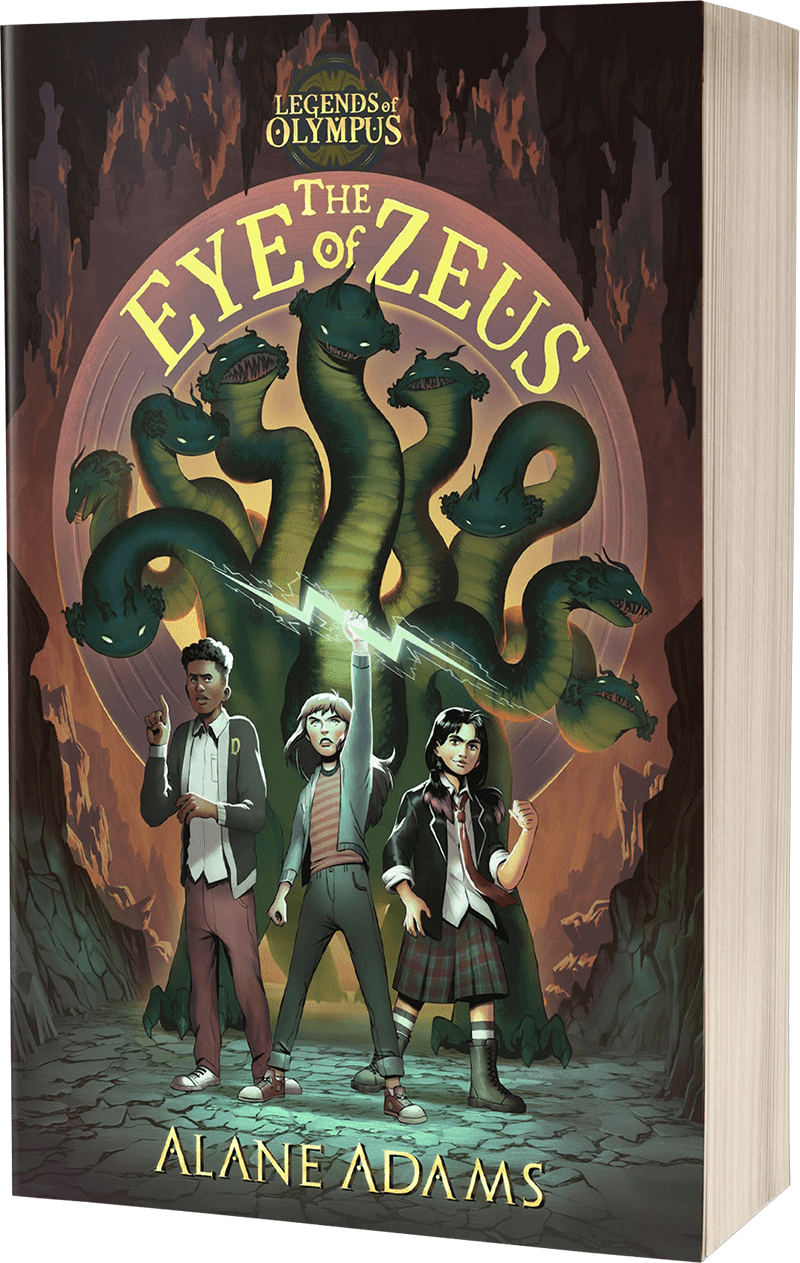 ISBN Number: 978-1684630288
Print Price: Paperback – $12.95
Age Range: 8 – 12 years old
Grade Level Range: 3 – 6
Page Count: 256 pages
Lexile Measurement: TBD
Get the Legends of Olympus Book Club Kit
This first installment in Adams' Legend of Olympus series is a nonstop, fast-paced adventure with an engaging, brave, and resourceful protagonist. Fans of Greek mythology will find much to love in this fun novel.
With twists, loyalty between friends, and its cast's cleverness, the middle grade fantasy The Eye of Zeus hits all the right notes.
This charming and brilliant novel is superbly plotted and will win over readers . . . Phoebe's voice is dead on and authentic, as are those of her friends. The author's masterful prose and style serve the story instead of merely taking center stage . . . This author and novel are ready for prime time and the big time.
A great addition to any library collection, with a fiery, smart protagonist readers will love. Share this title with "Percy Jackson" fans.
Alane Adams delivers a sensational twist on Greek mythology with an adventure full of heart, action-packed moments fit for the legends, an emotional journey, and the strength of friendship.